Tess Perfect Tea Composition 12 Varieties 60 x 1,8 g
Tess Perfect Tea Composition - is an exclusive collection of tea bags, which brings together 12 original compositions (60 packs) with different varieties.
Using natural flavors mixed with high quality tea leaves, the Tess collection attracts with its diversity of flavors and bold combinations. The traditional flavors of the classic green and black tea varieties are colored with delicate notes of fruit, flower petals and aromatic herbs.
Infusion temperature: black teas 90-95 °C, green teas 85-90 °C, for 3-4 minutes in a 200 ml tea cup.
"Tess Perfect Tea Composition" The Collection of 12 Varieties
Sunrise
Ceylon báihuā black tea, unusually rich, bright and delicate taste, memorable due to a pleasant aroma.
Ceylon
Black Ceylon báihuā tea, from the highland plantations of Ceylon, has a rich and bright taste with a delicate natural flavor which is characteristic for highland teas.
Breakfast
Tess Breakfast is a splendid blend of refined black teas harvested from plantations in Ceylon, India and Kenya.In this blend, the astringency of Ceylon black tea blends harmoniously with the delicacy of Darjeeling black tea.
Pleasure
Black tea with rosehip, apple, flower petals and aroma of tropical fruits, opening a variety of shades in one bouquet.
Thyme
Tess Thyme is a refined blend of black tea harvested from North Indian plantations, seasoned with the fresh scent of mountain thyme.
Earl Grey
Black báihuā tea with dried peel of citrus and bergamot. The tea leaves fully disclose their notes and give to the drink its natural energy and strength.
Goldberry
An expressive bouquet of golden fruits and flowers that endows Ceylon black tea with a new and complex flavor. The slightly astringent taste of baked quince is combined with the sweet-sour notes of sea buckthorn in a light and liqueur tea.
Orange
Black báihuā tea with orange peels and natural aromas, refreshing, with a sheet of black currant, orange peel and dried apple.
Style
Chinese large-leaf green tea, for the production of which are used whole tea leaves; creates a rich and at the same time light taste, refreshing and tart with different and very subtle natural flavors.
Flirt
An expressive and very delicate tea composition which reveals a whole bunch of colors and tones. The tea bitterness is softened by fresh juicy white peach flavors and delicate natural tint of strawberry.
Lime
Green Chinese báihuā tea "white flowers" with peels of citrus, flower petals and lime flavor. The brave combination of flavors – tart green tea with wild rose, flower petals, and a subtle lime flavor.
Flame
Fruity-herbal, red color tea, based on hibiscus, rose hips and apples with orange zest, verbena and strawberry pieces. Aromas of ripe strawberry complementing notes of rosehip, mint and orange, drawing in the rich bouquet of taste.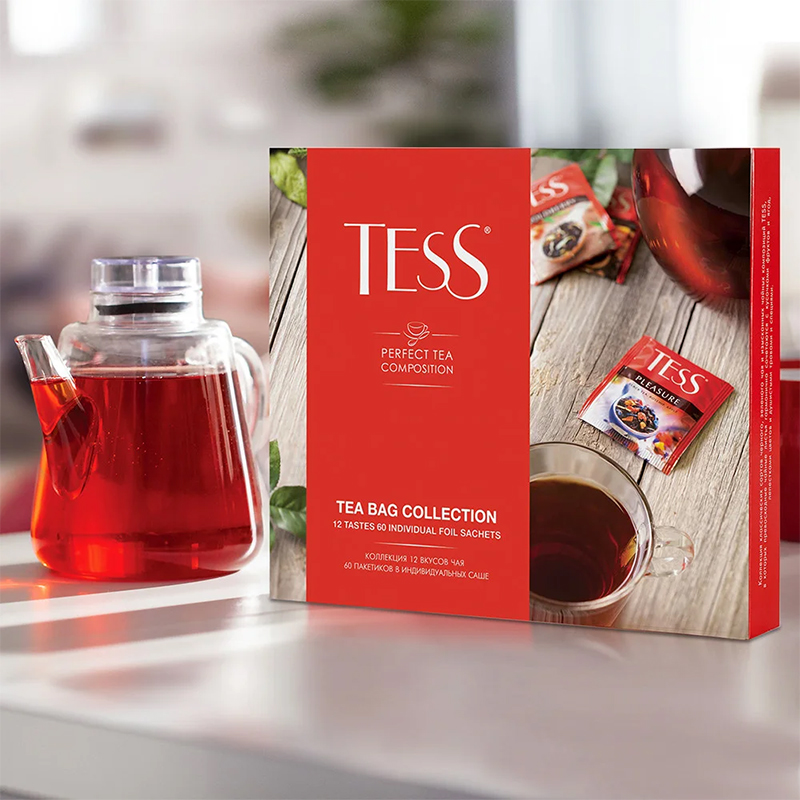 Characteristics
Varieties
Sunrise, Ceylon, Breakfast, Pleasure, Thyme, Earl Grey, Goldberry, Orange, Style, Flirt, Lime, Flame.
Composition
Black tea, green tea
Processing
Naturally flavored
Preparation
Infuse for 3-5 minutes in a 200-300 ml cup
Pack
Pieces per pack
60 bags
Sachet weight
1,8 g