Greenfield Premium Collection 30 Varieties 120 x 2 g
Premium Collection - includes elite varieties of black, green, red and white tea, harvested from the best tea plantations in Sri Lanka, India, Kenya, Japan and China, as well as original blends of plants and fruits. 30 varieties of tea are present in the Greenfield Premium Collection box. It can be offered as a gift or can be used by tea lovers who prefer diversity. The assortment of Greenfield mixes, gives you the possibility to enjoy any tea depending on your needs or current mood.
For example:
Premium Assam or English Edition will charge your mornings with energy.
Rich Camomile, Green Melissa or Honey Linden - can be served in the evening to maintain the health of the nervous system.
The Quince Ginger or Strawberry Gourmet will warm you up on rainy and cold days.
Floral Cloud, Mellow Peach, Currant & Mint, can be enjoyed cold, in the fight against the summer heat.
Christmas Mystery will create an atmosphere of celebration, or remind you of the magical atmosphere when the holidays are over.
Jasmine Dream or Grand Fruit - they'll reinvigorate you when you need to drive away your routine.
This mix of flavors and tastes will drive out boredom and make tea breaks more colorful, interactive and full of good will, as each tea consumer will be able to choose the assortment they will need.
30 varieties:
Golden Ceylon, Premium Assam, Classic Breakfast, Magic Yunnan, Kenyan Sunrise, Earl Grey Fantasy, Milky Oolong, Flying Dragon, Japanese Sencha, Jasmine Dream, Creamy Rooibos, Rich Chamomile, Summer Bouquet, Festive Grape, Green Melissa, Blueberry Nights, Christmas Mystery, Spring Melody, Barberry Garden, Lemon Spark, Vanilla Cranberry, Chocolate Toffee, Strawberry Gourmet, Wildberry Rooibos, English Edition, Mellow Peach, Grand Fruit, Quince Ginger, Currant & Mint, Honey Linden, Floral Could.
Ingredients: Black tea, Green tea, Oolong tea, Herbal tea, Hibiscus, Rooibos, fruits, natural flavors. Preparation: The contents of a package are infused in 200 ml of boiling water - 80 °C for a maximum of 7 minutes.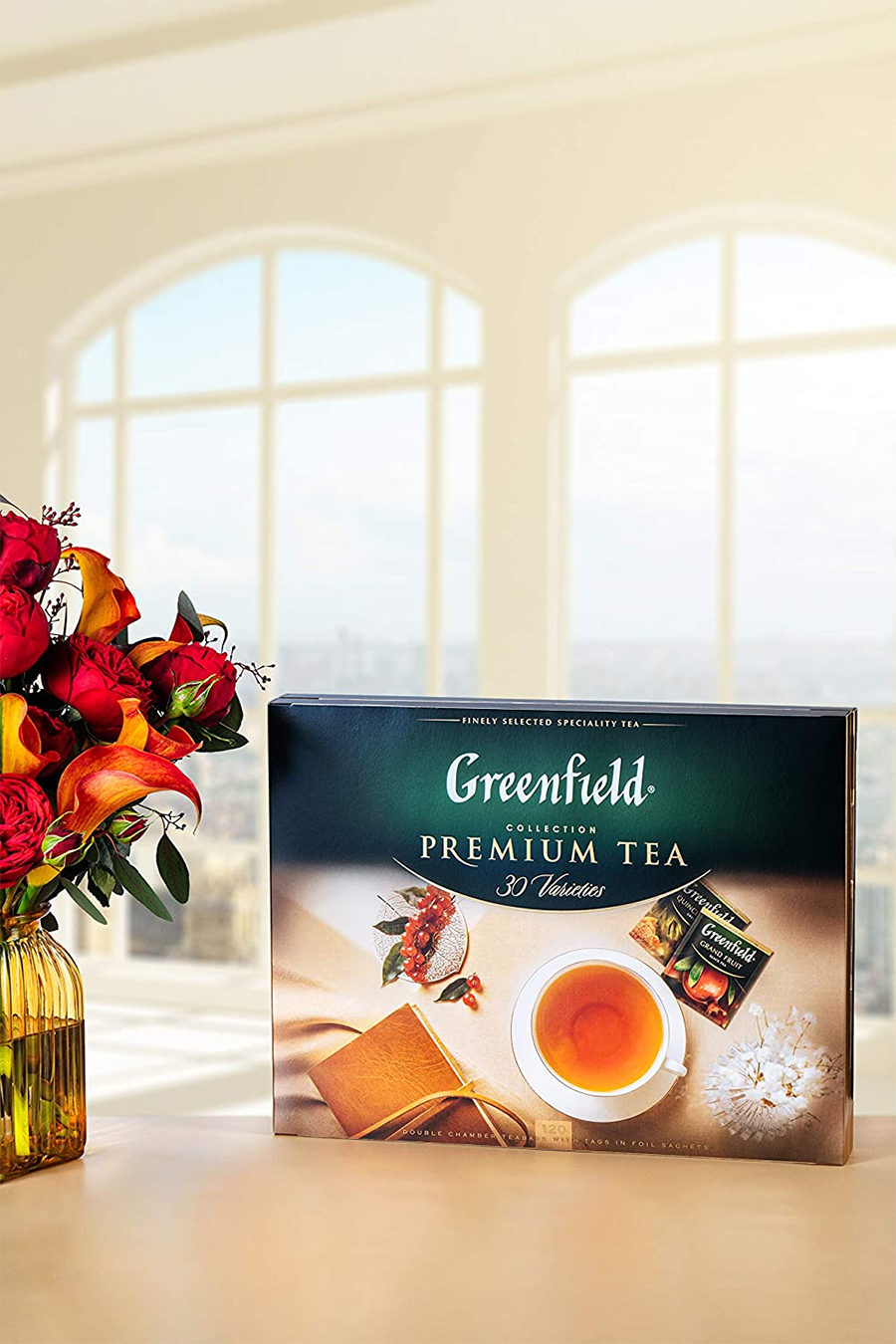 Characteristics
Composition
Black Tea, Green Tea, Oolong Tea, Herbal Tea, Hibiscus, Rooibos, Fruit
Processing
Naturally flavored
Preparation
Infuse for 7 minutes in a 200-300 ml cup
Pack
Weight
240 g
Pieces per pack
120 bags
Sachet weight
2 g