Greenfield Festive Grape Apple, Rosehip and Hibiscus 25 x 1,5 g
Festive Grape - grape-flavored herbal tea is one of the most beloved varieties of tea in the manufacturer's range, based on three amazing ingredients: apple, rosehip, hibiscus.The fine sweetness of apples is easily intertwined with the warm taste of rosehips. The delicate taste softs the acidic notes of Hibiscus and gives the drink a long and memorable aftertaste.An elegant fragrance of grapes comes from this bouquet and and surrounds with its flavor, in a feeling of comfort and harmony. Each sip of tea comes with a wave of pleasure that fills you with the heat from inside, relaxes you and give you a good mood.
Ingredients: hibiscus, apple slices, rosehip, grape leaves, grape flavor.Preparation: The contents of the bag are infused for 5-7 minutes in a cup with 200 ml of boiled water - 85-90 °C.
*Hibiscus
is a plant native to North Africa and Southeast Asia, known for its large and colorful flowers in shades of red, white, yellow or orange.Hibiscus tea is known for its many benefits on the body, due to its rich content of nutrients and high concentration of antioxidants and vitamin C.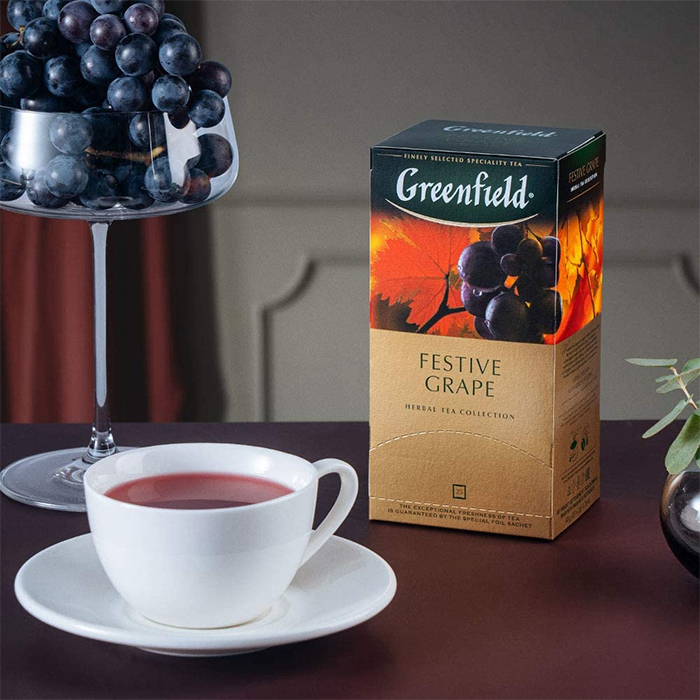 Characteristics
Composition
Hibiscus, apple slices, rosehip, grape leaves
Flavor
Slightly sour
Processing
Naturally flavored
Preparation
Infuse for 5-7 minutes in a 200-300 ml cup
Infusion temperature
85-90 °C
Pack
Weight
37,5 g
Pieces per pack
25 bags
Sachet weight
1,5 g