Althaus Lemon Mint Herbal Refreshing 15 x 2,75 g
Lemongrass and mint give this delicately light green herbal infusion its unique flavor and refreshing taste.
Ingredients: lemongrass (45 %), pieces of apple, elderberries (16 %), orange peel (16 %), peppermint (3 %), melisse, sunflower blossoms (1,5 %), blue mallow blossoms (1 %).Infusion temperature up to 95-100 ° C.Pyramid-shaped bags are a modern way to infuse tea, resulting in a drink with an extremely full flavor and taste.
* Lemongrass
- is an herb that is native to Sri Lanka and South India but now grows in many countries around the world. The plant's stalks are a common ingredient in Asian cooking, but it is also possible to brew lemongrass to make tea. In food and beverages, lemongrass is used as a flavoring. For example, lemongrass leaves are commonly used as "lemon" flavoring in herbal teas. In manufacturing, lemongrass is used as a fragrance in deodorants, soaps, and cosmetics. Lemongrass is also used in making vitamin A and natural citral. Lemongrass essential oil is a powerful antiseptic, a stimulant of exchange processes in the body. It also improves sleep, reduces headache, can be used as a remedy for insomnia.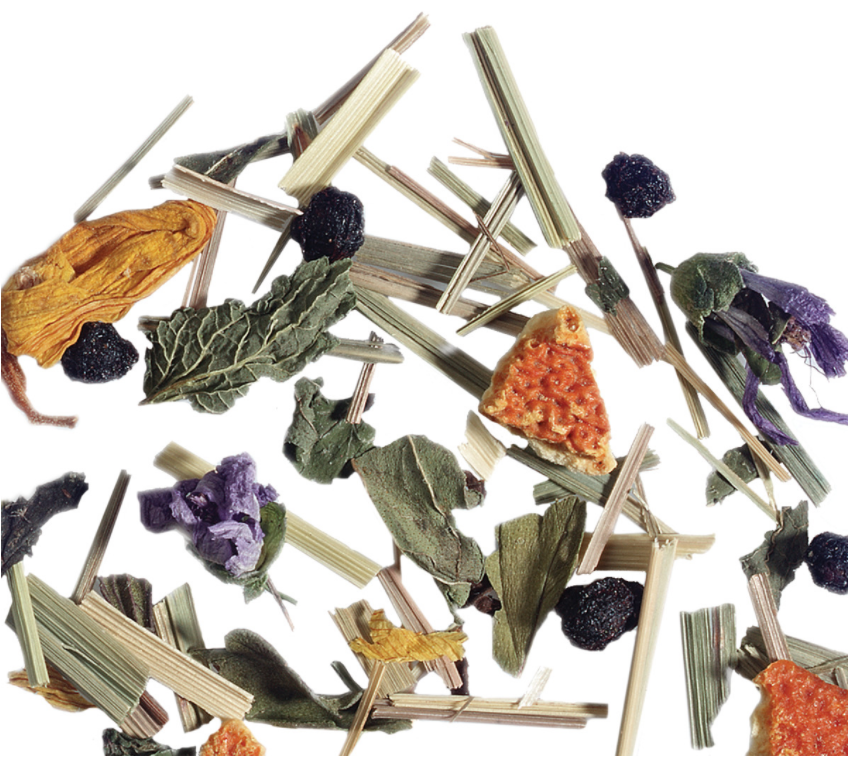 Characteristics
Composition
Lemongrass, orange peel, apple pieces, mint, lemon balm, sunflower flowers, blue mallow
Processing
Unflavoured
Preparation
Infuse for 4-5 minutes in a 200-300 ml cup
Infusion temperature
95-100 °C
Notes
Lemongrass, mint
Country of manufacturer
Germany
Pack
Weight
41,25 g
Pieces per pack
15 bags
Sachet weight
2,75 g